Winner, Winner
A Southern French Inspired Chicken Dinner
Hi there,
Welcome to the very first edition of The Weekly Menu. From here on out, there'll be one of these a week- each a complete meal menu along with notes, recipes, and instructions, hints for sourcing ingredients, and likely a lot of smarmy unnecessary commentary. Tell your friends!
-Drew
---
Who doesn't love a chicken dinner? Other than the chicken. He's probably not so happy about it. Also, maybe that kid you know who doesn't like bones in his food or anything without ketchup. They're not reading this newsletter though. So … I'm just going to move forward with the assumption that everyone loves a chicken dinner.
It's one of the great simple meals – satisfying on a warm summer evening or a frigid winter night. This week's Weekly Menu leans on some late summer produce, and the flavors and techniques of southern France, to put together the perfect late summer chicken dinner.
We'll start – like a lot of the southern French meals we're emulating here – with toasts and a spread. In this case, a quick liver pâté spread on toast – the luscious minerality of the offal is countered by the sweetness of lavender infused honey, late summer figs, and smoked salt.
Then, an easy but satisfying herbed roast chicken, scented with Herbs de Provence (or their fresh equivalent), is accompanied by crisp chicken fat-roasted potatoes tossed in garlic and herbs, and an easy, fresh Ratatouille that while nothing like the one you've seen in the movies, is a great way to enjoy some of the best of late summer's garden bounty.
Finally, we'll end the meal with one of the most underrated (and easiest to prepare) classic French desserts – a Clafoutis. It's almost a like Dutch Baby pancake, or even a sweet Yorkshire pudding. The most traditional recipes use in-season cherries, sometimes with the stones intact to add a little almond flavor and because … ? Today's recipe is studded with black seedless grapes, which you may not be used to finding in cooked desserts, but end up with a surprisingly great flavor and texture.
This meal may take a few hours to prepare. The chicken will be best if you let it rest overnight in the refrigerator, and the ratatouille is best when it slowly cooks over low heat for a couple of hours, stewing in the vegetable's own liquid. I recommend accompanying the meal with good, naturally-risen bread, good butter or olive oil, and a Provençal Rosé or Rhône red, but I'm nothing close to a wine expert.
---
Chicken Liver Toasts with Fresh Figs, Lavender Honey, and Smoked Salt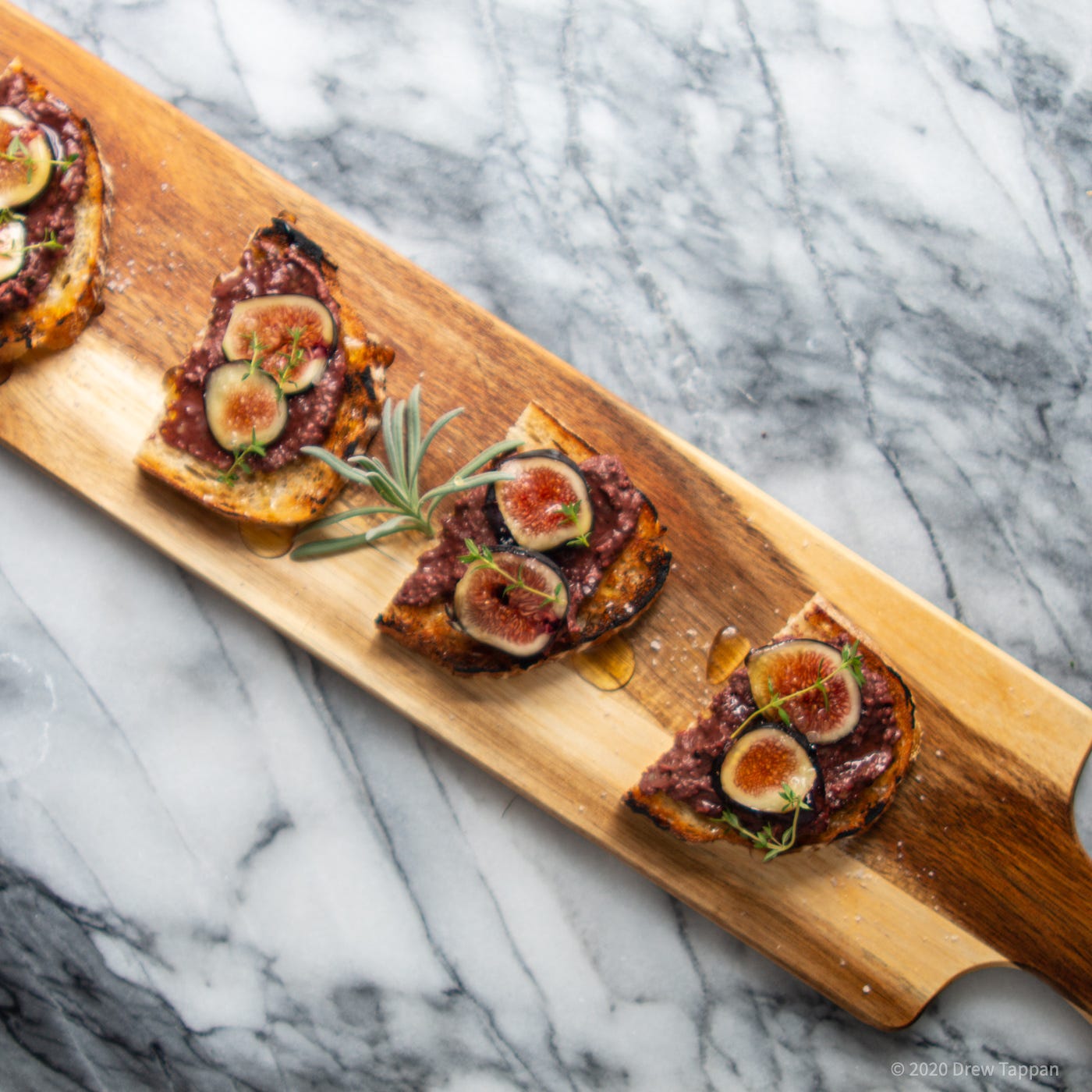 I know that chicken liver can be a divisive ingredient – being that it's, well, liver - but it is a good way to use the whole animal, and more importantly, it's delicious and can be downright luxurious. These chicken liver toasts are quick, and you can even use the giblets that may or may not come with your chicken. If you use smoked salt to finish, you add an extra layer of flavor, and if you're really lucky and using Maldon - you might find one of the huge pyramid shaped crystals that make the salt famous.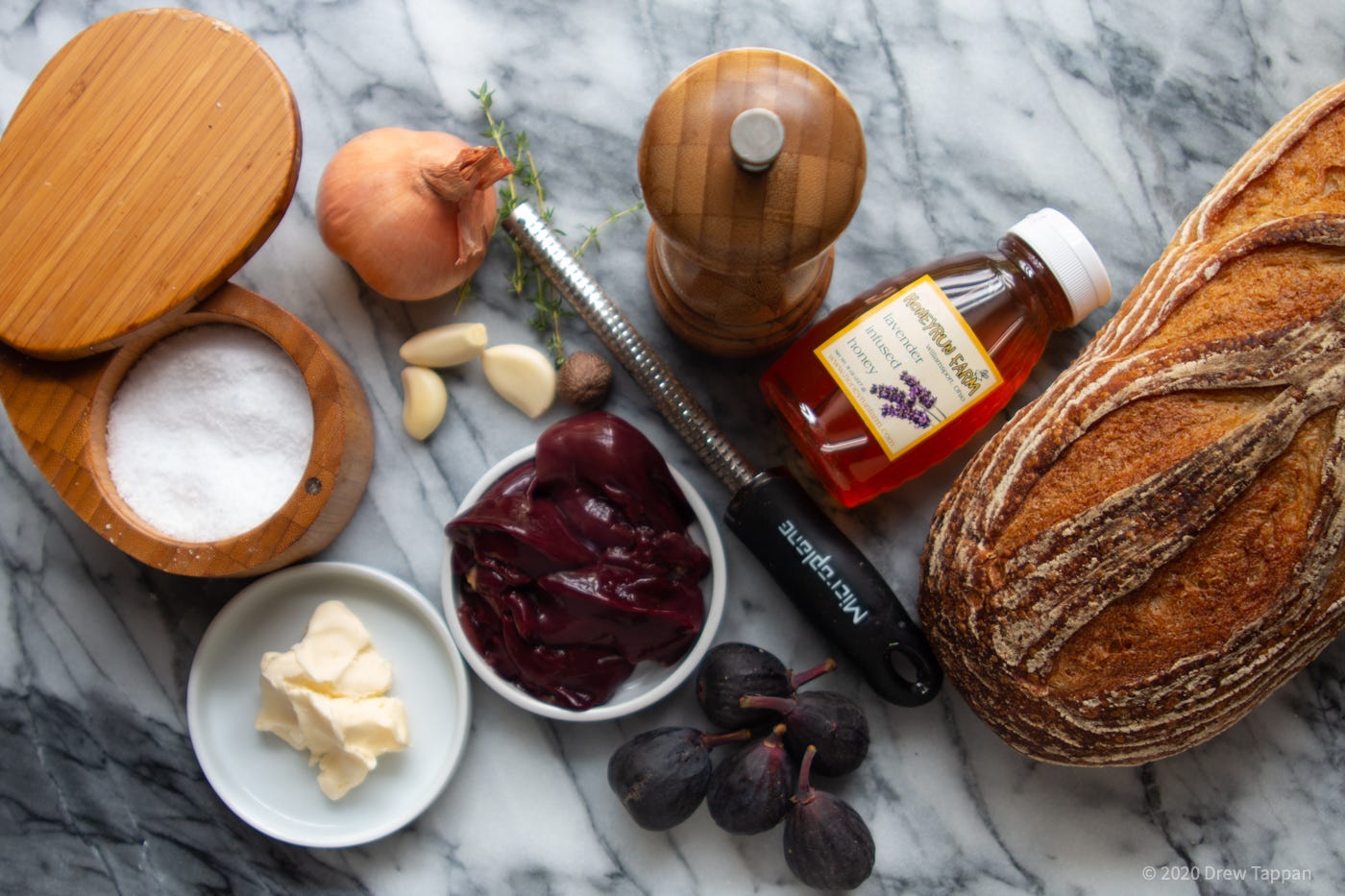 Serves 4 as an appetizer
2 whole chicken livers
½ medium shallot
1 clove garlic
4 tbsp unsalted butter
½ tsp fresh ground black pepper
½ oz brandy, bourbon, or sherry (opt)
1/8 tsp nutmeg (freshly grated is best) or 1/8 tsp Chinese Five Spice powder
2 sprigs fresh thyme, plus more for garnish
1 tsp kosher salt
1 tsp Smoked Maldon Salt
1 tbsp Lavender-infused honey
4 fresh figs
4 pieces of toasted bread
Peel and finely mince the shallot.
Peel, crush, and finely mince the garlic.
Pick the thyme, discarding the stems.
Trim away any tough membranes and cut the chicken livers into ½ inch pieces.
In a medium fry pan over medium heat, melt the butter. Be careful not to burn it???
When the butter stops foaming, add the garlic and shallots, and sauté until the shallots are translucent.
Add the chicken livers, salt, pepper, nutmeg or five spice powder, and cook until most of the pinkness has disappeared from the chicken livers.
Deglaze the pan with brandy, bourbon, or sherry, if using.
Immediately transfer all pan contents to a food processor or a container appropriate for a stick blender and process until smooth.
Refrigerate 1 hour or until ready to serve.
To serve, spread the liver paste on the toasts, top with slices of fresh fig, a drizzle of lavender honey, tender tops of thyme sprigs, and a sprinkle of the smoked salt.
---
Herb Roasted Chicken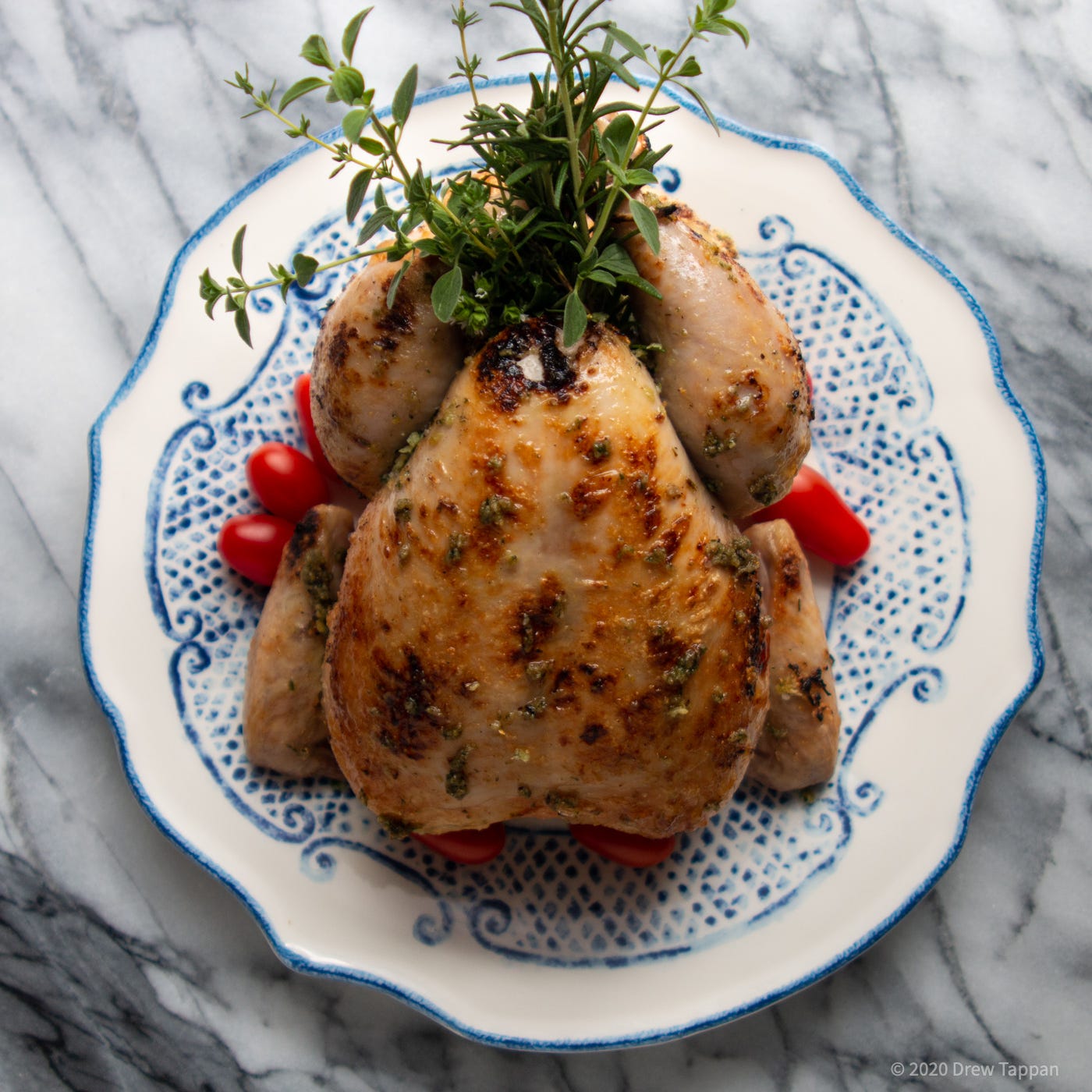 As recipes for roasted chicken go, this is a pretty simple one. There is no stuffing messy butter or herbs under the skin, or a three-day brine or air drying with a hair dryer. You could even make this with a chicken fresh from the shop, but it will benefit from letting the skin dry out by resting it uncovered overnight in the refrigerator. Basically, we'll make a paste of herbs (fresh or dried), garlic, and salt, rub the chicken well with that paste, and roast it until it's well browned and cooked through.
Look for a smallish, young chicken, 3-4 lbs – in the States, these are often called a "small fryer." That'll be the most tender common bird and it's one that cooks quickly enough to keep from drying out. If you get a grocery store chicken, remember to go spelunking for the giblets. Finding that paper or plastic pack of offcut bits after cooking is simply no fun.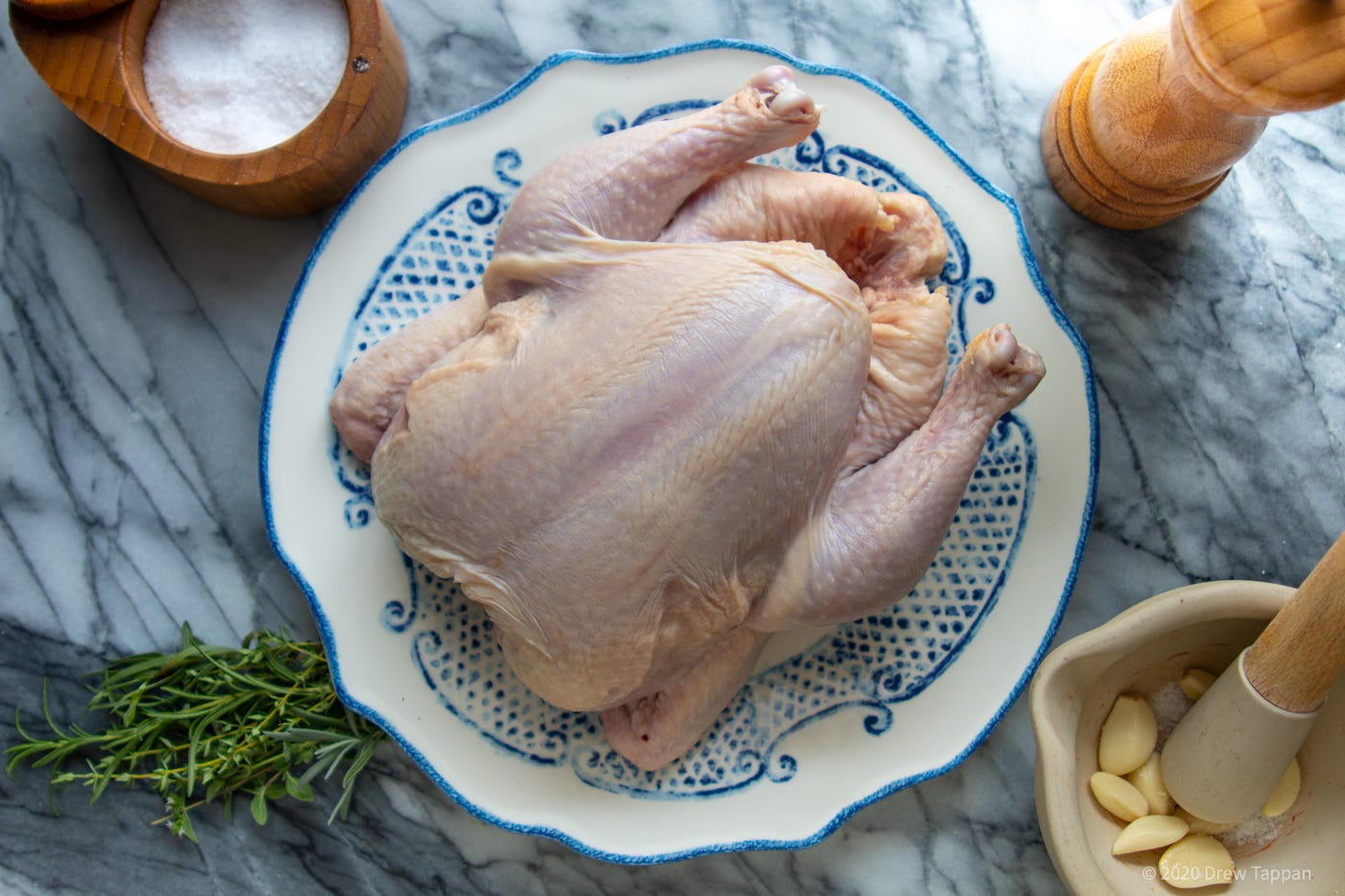 Serves 4
1 young chicken (3 to 4lbs), giblets removed
2 cloves garlic
1 tbsp kosher salt
2 tsp dried Herbes de Provence
-OR-
4 sprigs fresh thyme
1 sprig fresh rosemary
1 sprig fresh oregano
1 sprig fresh tarragon
A few leaves of culinary lavender (opt)
Pre-heat your oven to 400° F. For those of you in the UK, that's gas mark 4 farthings and 2 stones or something like that.
Optional: truss your chicken. There are a number of ways to truss chickens before roasting, but the goal is to create a compact package that cooks evenly, reducing the chance that the breasts are dry and crumbly when the thigh and leg are barely cooked. I usually tuck the wingtips under the front of the spine and use a single piece of kitchen twine pulled under in front of the legs and tied tightly under the breastbone before using the tails to tie the legs up.
If you're using fresh herbs, take the time to pick them, separating the woody stems and the leaves – and discard the stems (or save them to flavor stock for another meal).
Combine the salt, herbs, and garlic in the bowl of a mortar and pestle (or a small food processor) and process until the herbs and garlic are well broken down and a relatively smooth paste is formed.
Rub the paste evenly over the outside? skin of the chicken.
Place your chicken on a wire rack on a baking tray.
Roast your chicken for 30-40 mins, or until the internal temperature reaches 155°F. Cooking time will vary based on the size of your chicken. Remove the chicken from the oven and allow the whole bird to rest for 10-15 minutes before serving. The internal temp will rise a few degrees and the rest will help the bird better retain juices when carved.
To serve, arrange the bird on a plate, scatter some cherry tomatoes around the plate, and tuck a bouquet of fresh herbs into the opening at the back.
---
Chicken Fat Roasted Potatoes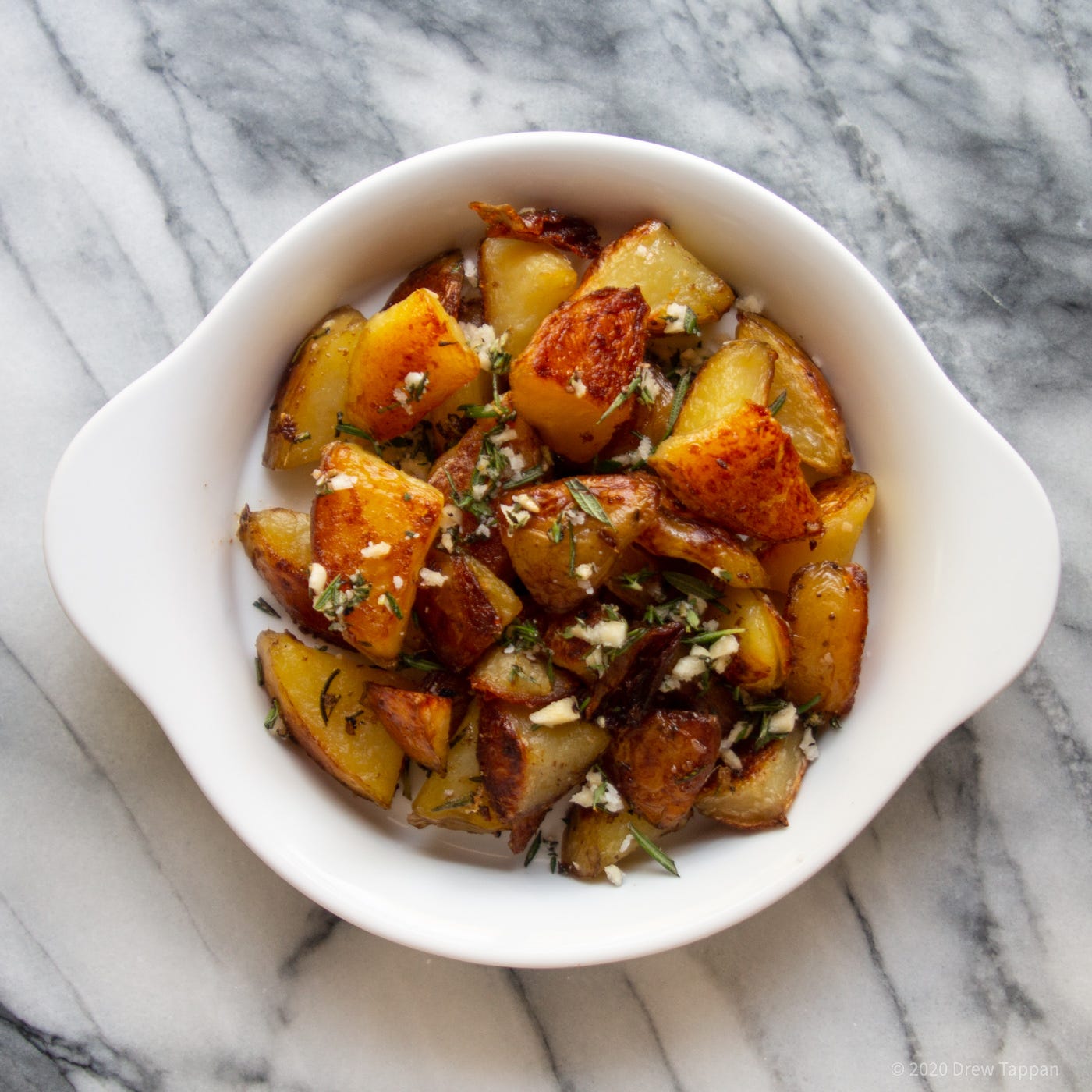 The key to great, crisp roast potatoes is to get a rough surface on the potato. More surface area = more crispy goodness. This recipe uses an easy trick from the incredible J. Kenji Lopez-Alt to get crispy potatoes with a creamy interior. They're par boiled in a slightly basic solution – water spiked with baking soda – to break down some of the pectin and create a rough surface. And because they're already par cooked, you don't have to worry about that stray bad-kind-of-crunchy potato. I cook these in chicken fat – either rendered from the fatty pads you'll often find inside the rib cage, or fat skimmed from making homemade stock. It's both a fat that gives you good crunch without a greasy feel, but also one that adds a huge amount of flavor to the potatoes. If you can't get, or don't want to use chicken fat, try a flavorful oil like Olive oil or clarified butter. FWIW, schmaltz (chicken fat rendered with onions) is even better.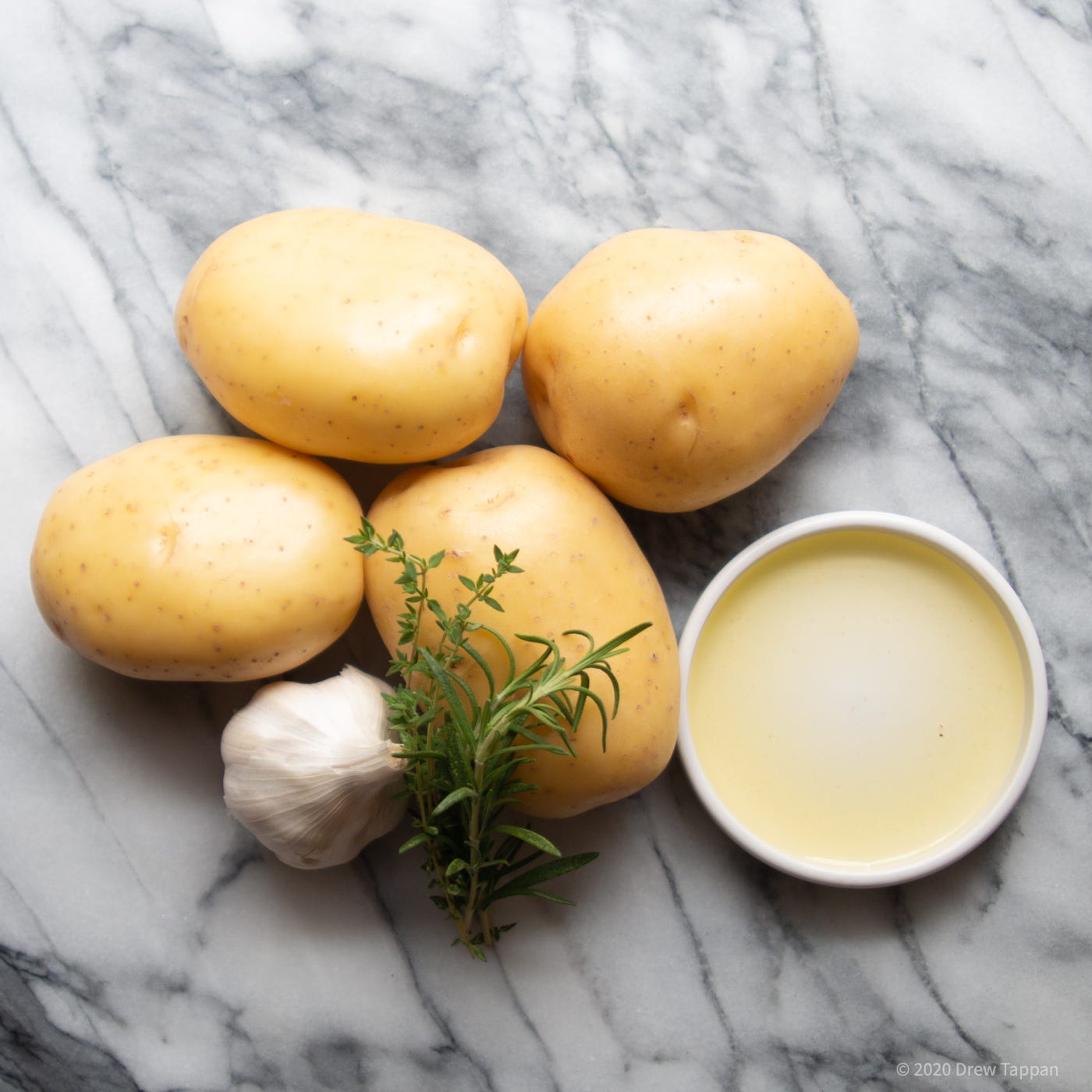 Serves 4 as a side dish
4 waxy potatoes (Yukon gold or such)
½ tsp baking soda
1 tbsp rendered chicken fat
1 tsp kosher salt
2 sprigs fresh thyme
1 sprig fresh rosemary
1 clove garlic
½ tsp fresh ground pepper

Pre-heat your oven to 400° F.
Bring approximately 2 quarts of water to a boil in a medium sauce pan.
Peel, or wash and scrub your potatoes. Cut them into approximately 1 inch pieces.
Add the baking soda to the boiling water, then add the potatoes.
Cook at a low boil for 8-10 minutes, and drain well.
Coat the potatoes with the chicken fat or other oil and spread evenly on a small sheet pan. (The prior steps can be done up to 2 hours in advance.)
Place sheet pan in a 400°F oven and cook until well crisped (about 25 mins), stirring occasionally to help even browning.
While the potatoes are roasting, peel and finely mince the garlic clove.
Pick and finely chop the herbs.
Combine garlic, salt, pepper and herbs.
Remove the potatoes from the oven. Toss the potatoes well with herb and salt mixture and serve immediately.
---
Not-Really Ratatouille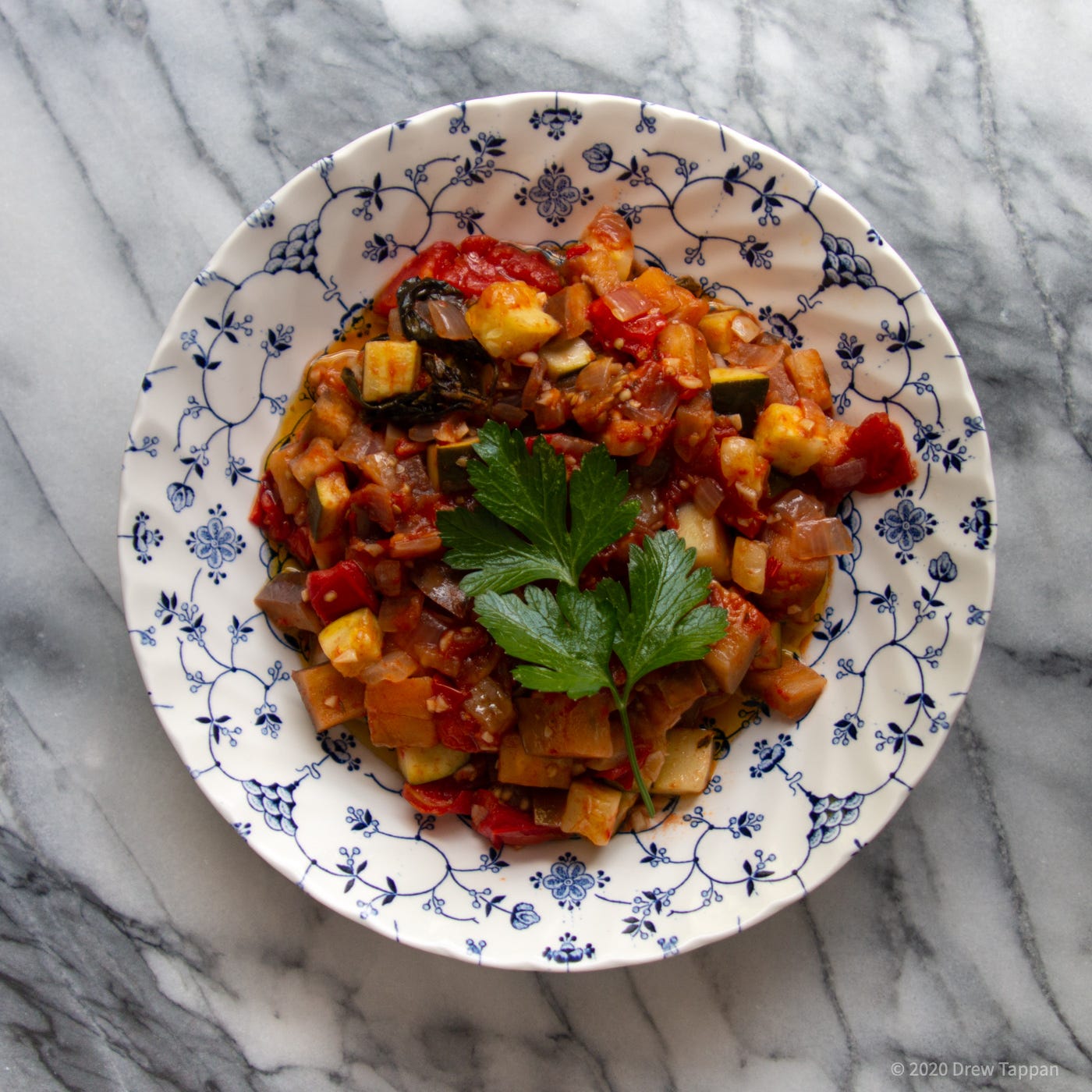 This isn't a ratatouille.
Well, it's not a traditional ratatouille.
It's not a stew – meaning that we're not ending up with a particularly saucy dish – and it omits one traditional ingredient. Because I don't like it. I'm petty like that. I just don't really like red bell peppers. Everything cooked with them, or their even more evil green bell pepper cousins, ends up tasting like … bell peppers. Chili peppers? I'll eat any and all kinds. But (with a few exceptions – Cajun food? Romesco sauce?) I really don't enjoy bell peppers. So, I've left them out. Instead, this is a simple sauté of onion, eggplant, zucchini (vegetable marrow for those of you prone using U's in your colors and flavors), tomatoes, and some aromatics. The vegetables cook down in their own juices and they end up tasting of pure unrefined summer instead of tasting of nefarious bell peppers.
Serves 4
2 small zucchinis
1 small Italian-style eggplant
1 medium red onion
4 Roma or plum tomatoes
1 clove garlic
1 sprig fresh thyme
1 small bough (piece) or four leaves fresh basil
1 tbsp good olive oil
Salt and pepper to taste
Wash and remove the stem and blossom end of the zucchinis. Cut into an approximately ½ inch dice.
Wash and cut eggplant into a ½ inch dice.
Peel, trim and cut onion into ½ dice.
Wash and coarsely chop the tomatoes.
Add olive oil to a lidded sauté pan over medium heat.
Once the oil is hot, add the onions, garlic, and a pinch of salt to the pan. Cook until translucent, about 5 minutes.
Add the tomatoes and cook the mixture until the tomatoes begin to break down slightly.
Add the zucchini, eggplant, thyme, and basil, and season well with salt and pepper.
Cover, and cook on a very low temperature for two hours, stirring occasionally.
To serve, drizzle with good olive oil and sprinkle a bit of finishing salt over the dish.
---
Frisée Salad with Bistro Dressing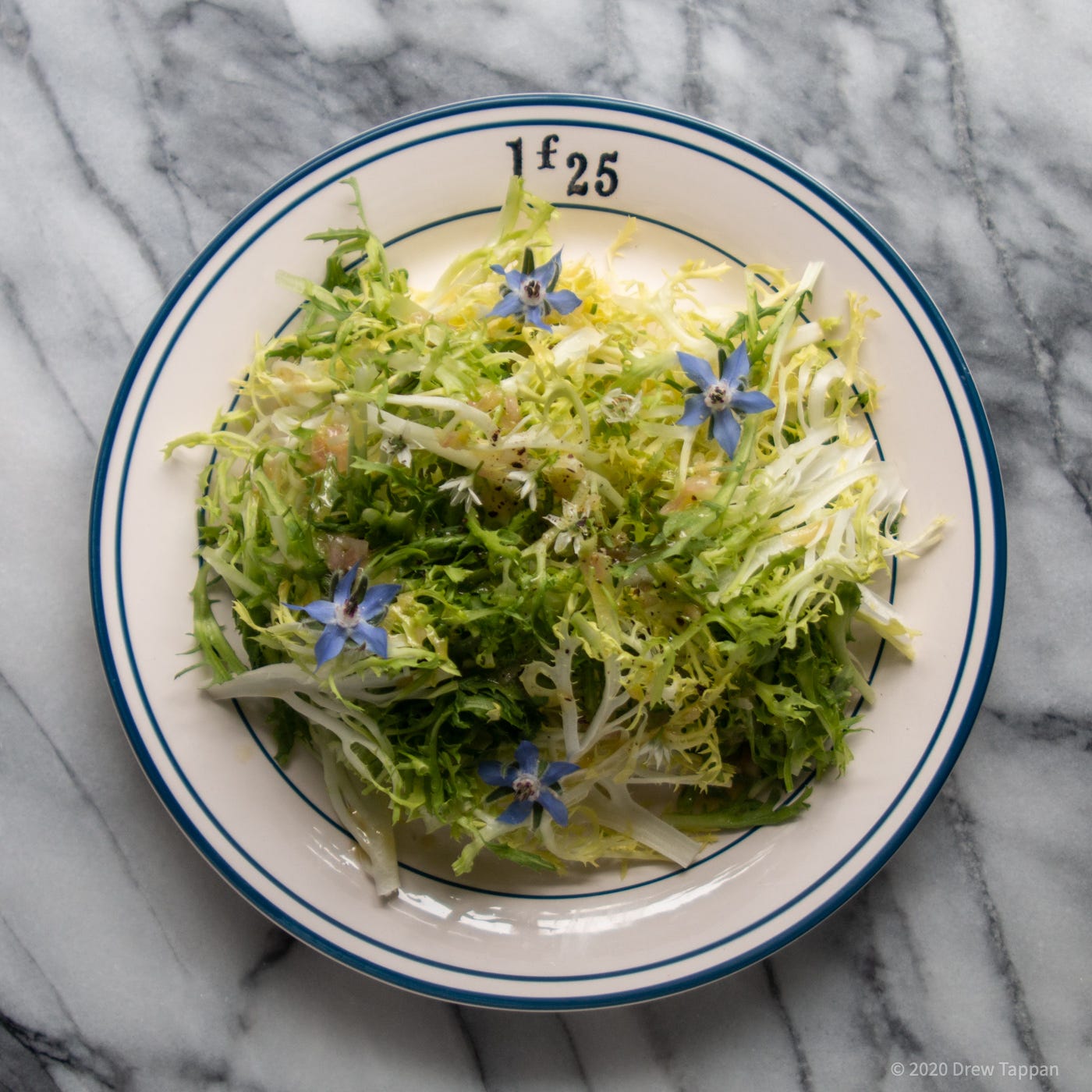 Like liver, bitter endives like frisée or escarole can be a sticking point for some folks, but the bitterness of the greens is what makes them a such a great foil to rich sumptuous dishes like grilled or roasted meats or a rich stew. Frisée, a blanched curly endive, can sometimes be hard to find in the U.S., so you can substitute almost any tender bitter green – escarole is particularly good, but even arugula (rocket) will work well with this dressing – the older and spicier the better. For what it's worth, this classic dressing is great on just about any simple green salad - we use it at least twice a week.
Serves 4
1 head frisée or escarole
¼ cup good olive oil
2 tsp red wine vinegar
1 tsp water
1 tbsp minced shallot or 2 tsp microplaned shallot
½ tsp smooth Dijon mustard
½ tsp anchovy paste (opt)
½ tsp kosher salt
½ tsp ground black pepper
Wash and roughly chop or tear the greens. Wrap loosely in a towel and refrigerate until service.
Mince or microplane the shallot.
Add vinegar and shallot to a non-reactive bowl and allow to marinate for 10-15 minutes.
Add mustard, salt, pepper, water, and anchovy paste (if using) to the vinegar and whisk well to combine.
Slowly drizzle in olive oil, whisking to combine, until an emulsion forms.
To serve, generously coat cold greens with dressing and serve on a chilled plate, if you want to be pretentious, and with a chilled fork, if you want to be really pretentious.
---
Grape Clafoutis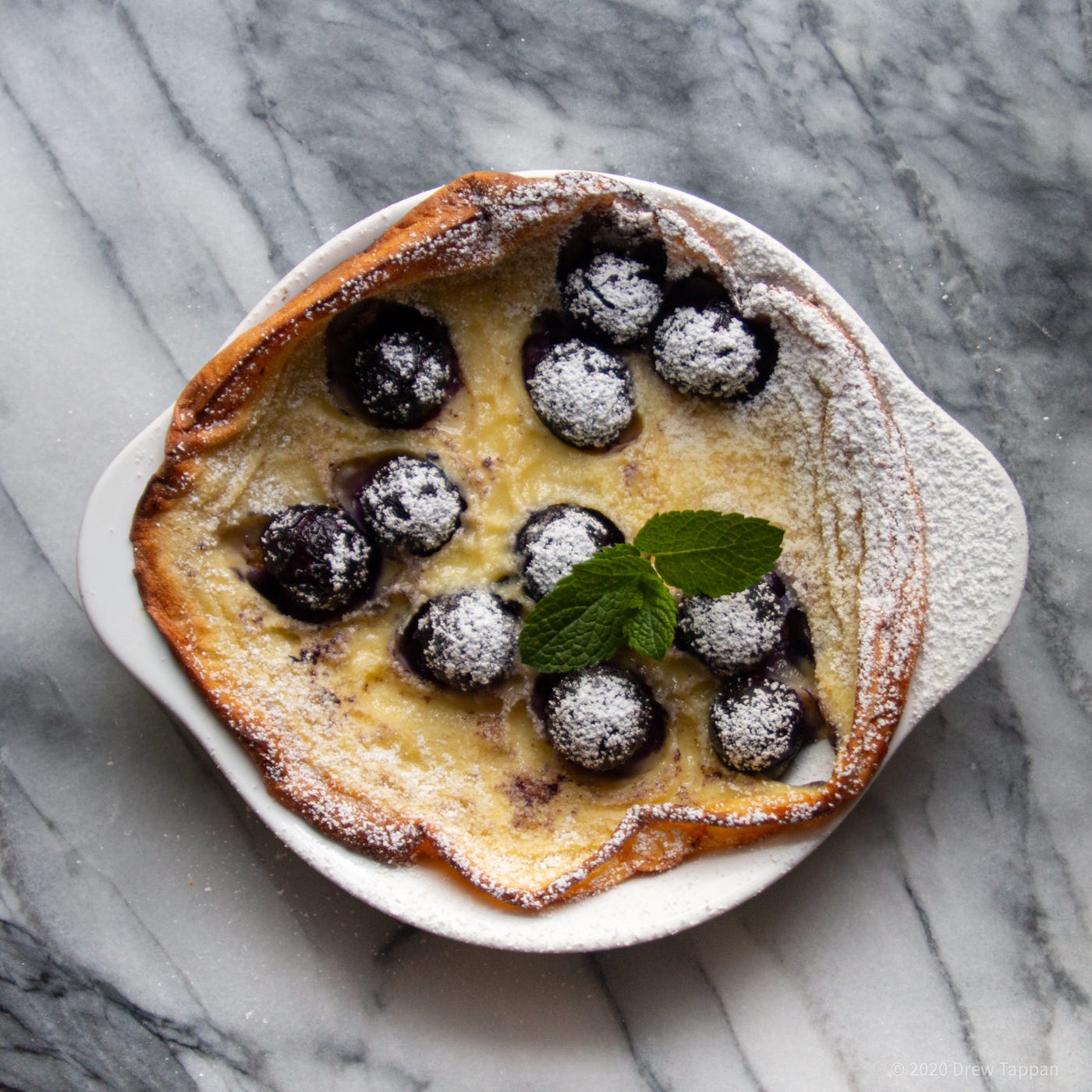 This classic French dessert is easy and fast - which almost makes it not a classic French dessert - but it's really delicious and even a little flashy. And, once you master the basics (and they are very basic), you can adapt it to whatever fruit you want. It's somewhere between a Dutch baby, a sweet Yorkshire pudding, and a fancified impressive thing a guy named Thierry brings you at a restaurant that claims to be "like a quick holiday in Paris!" but mostly reminds you that you're still in Omaha.
It requires a very hot oven and is best served still slightly warm – so it's easy to pop in as you're pulling your chicken out. A quick dusting of confectioner's sugar and you've got a delicious end to a fun meal. Add brandy and you can pretend you're in La Belle Epoque, or at that place in Omaha. I bet they've got a great French onion soup.
Serves 4
1 cup whole milk
3 eggs
½ cup AP flour
½ cup granulated sugar
2 tbsp + 1 tbsp unsalted butter (melted)
½ tsp vanilla extract or 1 tsp Grand Marnier or other Curaçao
Pinch of salt
12 seedless black grapes
Beat the eggs, vanilla (or Curaçao) and sugar until they're well combined.
Add the milk and whisk together.
Whisk in 2 tbsp melted butter, the flour, and salt. Whisk until just combined. Allow to rest for 30 minutes or more in the refrigerator.
To finish, preheat your oven to 400° F and put a large skillet or individual gratin dishes into the oven to preheat.
Once the oven has reached temp, add the remaining 1tbsp melted butter to the pan (or divided between pans).
Arrange the grapes evenly in the pan(s).
Heat for 5-10 minutes. (this isn't about the grapes. It's about the butter, people.
Pour the batter into the preheated pan(s) and return to the oven.
Cook until fully set and the puffy edges begin to brown. This will vary acording to your oven - but usually about 15 minutes.
To serve, sprinkle with confectioners' sugar and garnish with a sprig of fresh mint.
---
Timing:
The liver spread can be made in advance. Otherwise, the whole meal including prep should take you a little more than two hours to get to the table – with a little creative juggling. The oven recipes use the same temperature, and can all be cooked at once on in sequence. Start with vegetable and potato prep, par boil the potatoes and begin cooking that ratatouille as the oven comes to temp. Whip up the salad dressing and clafoutis batter while the chicken and potatoes roast. Finish the salad and liver toasts as the chicken rests before carving. Pop the clafoutis into the oven as you clear the table and pour more wine.
Shopping List
Butcher:
1 young chicken, 3-4 lbs
Chicken livers, ½ lbs
Produce:
Small zucchinis, 2
Small Italian-style eggplant, 1
Medium red onion, 1
Roma or plum tomatoes, 4
Yukon gold, Kennebec, or similar potatoes, 2-3 large or 4-5 medium
Frisée or Escarole lettuce, 1 head
Medium shallots, 2
Black seedless grapes, 1 small bunch
Garlic, 1 head
Mission or Black figs, 4
Fresh rosemary
Fresh tarragon
Fresh oregano
Herbes de Provence (opt – replaces fresh herbs above)
Fresh basil
Fresh thyme
Pantry:
Sugar, ½ cups
AP Flour, ½ cup
Vanilla extract
Red wine vinegar
Anchovy paste
Olive oil
Dijon mustard
Kosher salt
Black pepper
Nutmeg or Chinese Five Spice Powder
Lavender honey
Dairy:
Medium eggs, 3
Unsalted butter
Whole milk
That's all for this week. Stay tuned for more next week.